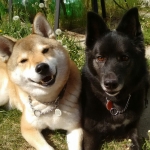 Surprize trimise:
3
Surprize primite:
3
Surprize în progres:
2
Ţara:
Canada
Limbi:
English, beginner German
Member since:
12 Mai 2020
Last activity:
24 Septembrie 2020
Hello! I'm Marina, I'm 25 and I love snailmail, all animals, plants, and sweets! I'm super shy but try my best to be kind.

I love hearing people vent or gush or getting secrets off their chest :) I'm an over-sharer (in writing, anyways!) and I have zero judgement of others who do the same. I'm also interested in witchy/occulty and conspiracy theory stuff, even though I'm not a personal believer. You can share your strange experiences or thoughts :)

In terms of goodies, I like coins (currency or non, like arcade/transit tokens), stamps, tea, magnets, lapel pins, patches, flower seeds, washi, and stickers :) Of course, I would love anything you choose to send, I really can't be disappointed :)

I'm excited to try this and send some surprises!