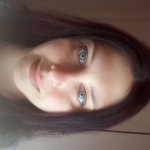 Surprize trimise:
6
Surprize primite:
8
Surprize în progres:
0
Ţara:
Italia
Limbi:
Member since:
09 Iunie 2020
Last activity:
14 Octombrie 2020
Hello! My name is Rita, Im 35 years old and I come from Italy.
I live in Bagnacavallo, a village in the north-east.I m married and I have a dog, Stella. I work in a fruit storage, like a worker.
I love travelling, penpalling, postcrossing, Reading, watch tv movies and series.
I love magnets, postcards and small gift from your country.