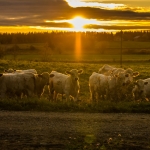 Surprize trimise:
11
Surprize primite:
12
Surprize în progres:
0
Ţara:
Finlanda
Limbi:
Finnish, English, Swedish
Member since:
05 Septembrie 2019
Last activity:
25 Ianuarie 2020
Hi everybody!

Just signed in to this club. I found my way here through postcrossing.com. One of you had a short introduction in his postcrossing profile about this site and I became curious. So, here I am, ready to send surprises hopefully all around the world!!

I live in eastern part of Finland in a little village. My husband is a farmer, so I live in a farm surrounded by our fields, forest and lake. I work as a teacher in a high school. I love my work! If I don't get enough time to spend with teenagers at work, no worries: I have two of them waiting me at home.

I'm really interested in history, art and religions. I love books, movies, museums, board games, baking and traveling. I follow what happens in the world, especially news about human rights, freedom of speech and equality. I dream that my generation will leave behind a better world than the world where we were born. And while building a better world why not smile and laugh?