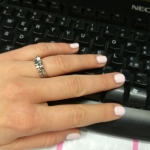 Surprize trimise:
17
Surprize primite:
19
Surprize în progres:
0
Ţara:
Italia
Limbi:
Italian, english
Member since:
20 Martie 2018
Last activity:
03 Mai 2019
Hello everyone! I'm italian girl of 34 years with many passions and many dreams in the drawer
I like flowers, candles, make-up, cheerful and colorful things. Pens, diaries, washi tape, the stationery in every shape and color. Stickers, hearts and stars. I like drinking a good cup of tea or coffee and reading a book (books humor, novels that strike you in the heart, fantasy, light yellows ... No books that speak of history) i like decorating my diaries and collecting cups (i love starbucks). I have other passions for cooking good food or for steel or silver bracelets that talk when they move.
I stop here... otherwise risk of boring someone!