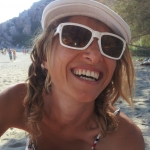 Surprize trimise:
2
Surprize primite:
1
Surprize în progres:
0
Ţara:
Italia
Limbi:
Italiano English Français
Member since:
20 Martie 2018
Last activity:
09 Mai 2018
Hello to everybody!My name is Lara
I'm 37 years old and I live in a city (Padua) near Venice, one of the most beautiful cities in the world! I love nature and mountain biking!

I love surprises but if you need some ideas, get it!
- postcards of all types, both tourist and creative
- tea bags or herbal teas
- stickers
- washi tapes
- greeting cards
- tickets
- writing paper

You can write me in Italian, English or French, please write me something also in your mothertongue too!

Thank you for what you will send, love is everywhere, in everything!