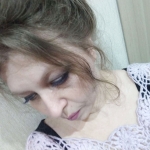 Surprize trimise:
15
Surprize primite:
15
Surprize în progres:
0
Ţara:
Belarus
Limbi:
belarusian, russian, english
Member since:
11 Septembrie 2019
Last activity:
21 Februarie 2021
Hello! My name is Katia.
I just live and love everything beautiful.
Now I'm trying to return to postcrossing. And I try don't think about all the sad things that life has been presenting to me lately. But it turns out badly. Postcards and envelopes in the mail box help me.
Love tango, reading and I dream to learn how to draw illustrations for them. I collect stamps and postcards on topics: ceramics and porcelain, crafts and arts, music, New Year, national clothes, flora and fauna and everything beautiful) I like illustrations on postcards and national things.

I really like surprises and sincere impulses and love beautiful things by which you can learn the culture, feel.

See you.
Katia.

p.s. And by the way, I'm interested in miniatures of cosmetic products.