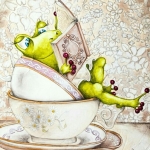 Surprize trimise:
5
Surprize primite:
2
Surprize în progres:
0
Ţara:
Rusia
Limbi:
Member since:
03 Septembrie 2022
Last activity:
17 Ianuarie 2023
Hi!
Today is a great day - if only because you got my address!
I live in Khabarovsk, in the Far East of Russia! I'm a cheerful, smart and just an attractive woman :-) Every day I try to find something interesting and new in life! In small joys hides Our Good Mood!
I love taking care of my family, running a household, cooking delicious food (always looking for new recipes).
I am fond of knitting with needles and crochet, Jacobean embroidery and smoothing, geocaching and reading interesting books.

I love images of butterflies and dragonflies; I love wet watercolour paintings; I love delicious tea; I adore sunrises and sunsets.
I love to receive tea bags; coins; cooking recipes; napkin knitting schemes; postcards; beautiful photographs; vegetable and flower seeds! stickers; craft paper and much more.
I would love any of your ideas! Surprise me!
All the best to you!