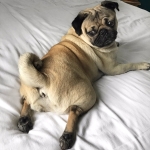 Surprize trimise:
12
Surprize primite:
14
Surprize în progres:
0
Ţara:
Statele Unite ale Americii
Limbi:
English
Member since:
12 Februarie 2019
Last activity:
16 Decembrie 2020
Hi! I'm Tracy. I am 50 years old and live in the Houston area of Texas, USA with my husband (Mike) of 22 years, our 4 year old pug dog (Madison).

I am a happy mail enthusiast, I dabble in art and I am a paper crafter! Stick me in a room with art supplies and forget about me awhile LOL

Some of my favorites are: ATCs, handmade postcards, and art journals or junk journals. I swap on Swapbot.com (tcornell) and also on Sendsomething.net (Tracy Cornell). I love used stamps (off paper), unused US postage stamps (any denomination), unused postcards, Kawaii letter sets and sticker sacks, stuff for making ATCs, your artwork, etc. If you have something with a pug on it, I would love to have it! If you'd like to send a letter, I will write back.

My favorite thing to receive would be something representative of your locale.